Microsoft Azure, Microsoft's ever-evolving cloud infrastructure, delivers a highly flexible and efficient platform for running applications. It is especially valuable for running and managing SAP solutions. Let's explore the unique benefits of implementing SAP solutions on Azure, its enabling features, and the impact of SAP solutions delivered over Azure to enterprises.
SAP Solutions – An Overview
SAP, an acronym for Systems, Applications, and Products in Data Processing, is a widely acknowledged enterprise resource planning (ERP) system. It serves as a vital backbone for numerous corporations worldwide, providing tools for resource administration, finance, client relationships, supply chain, and much more.
SAP S4 HANA on Azure
SAP S4 HANA is the latest generation of SAP Business Suite built on the HANA platform, designed for real-time processing and analytics capabilities. Running SAP S4 HANA on Azure rapidly accelerates the digital transformation of enterprises, combining the advanced capabilities of S/4HANA with Azure's agility, scalability, and efficiency.
Why Azure for SAP Solutions?
Microsoft and SAP have a longstanding alliance, spanning over two decades. This partnership has yielded integrative business solutions proving beneficial for corporations of all sizes. With Azure, you get a reliable, secure, and scalable environment for your SAP applications.
High Scalability and Flexibility
Azure provides a highly reliable cloud infrastructure that ensures nearly seamless continuity of mission-critical SAP applications. With Azure, you enjoy the flexibility and the freedom to adapt to varying workload needs of your SAP solutions.
Improved Costs
Leveraging Azure's pay-as-you-go model, companies have significantly reduced the total cost of ownership (TCO) of their SAP systems. This approach moves capital expenditure to operational, providing financial flexibility.
Innovative Technologies
Azure enables businesses to infuse their SAP solutions with advanced technologies like machine learning, analytics, and the Internet of Things, enabling enhanced operations and decision-making.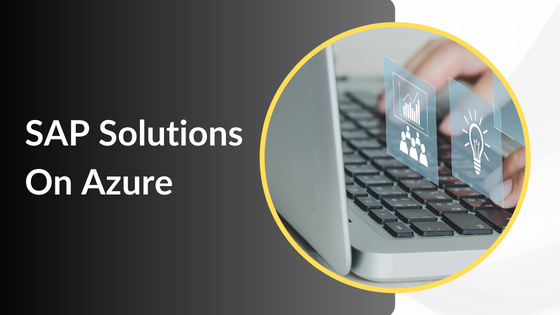 Key Features of SAP on Azure
Azure enhances the deployment and delivery of SAP solutions with features designed to improve efficiency and business outcomes:
Enterprise-Proven Platform: Azure ensures the secure and reliable operation of even the most mission-critical SAP and other enterprise services.
Advanced Security: Azure provides multi-layered security across physical data centers, infrastructure, and operations with Azure Security Center.
Sizable storage: Azure guarantees storage and database capacity that aligns with your enterprise's size and needs.
On-demand resources: Azure provides an array of compute resources to choose from, focusing on demands, budget, and performance.
Bare Metal Instances: Azure offers the largest SAP HANA-optimized VM sizes giving high levels of performance.
Impacts of SAP Solutions on Azure
A SAP and Azure combination has significant impacts on enterprises:
Enhanced Collaboration
It results in improved collaboration among enterprise teams, implying minimized cycle times, improved productivity, and enriched user experience.
Accelerated Business Processes
The ability to tap into Azure's scalability enables businesses to run significantly faster – from deploying applications, scaling resources, or executing workloads.
Reliable Disaster Recovery
Azure's robust disaster recovery and backup services ensure seamless SAP applications continuity, accelerating recovery times at minimized costs.
Future-proof Investment
By deploying SAP on Azure, businesses make a future-proof investment. They gain a competitive edge with Azure's continuous innovation in machine learning, IoT, and AI capabilities.
Conclusion
Harnessing the power of SAP solutions on Azure not only enhances operational efficiency but also signifies a substantial value-add in terms of scalability, flexibility, and cost-effectiveness. As businesses continue to realize the potential of their digital transformation journey, pairing these two powerhouses plays a critical role in shaping the future of business processes.